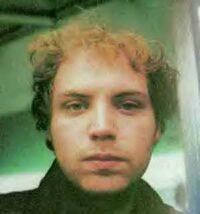 Profile :
Full Name : Jonathan Mark Buckland
Birt of Date : 11 September 1977
Place of Date : Islington, London, England
Genre : Alternative rock
Instrument : Guitars, vocals, keyboards
Jonathan Mark Buckland, lead guitarist for the post-Britpop/alternative band Coldplay, was born on September 11th, 1977, in London, England. Jon and the Buckland family moved to Mold, North Wales when he was four years old.
It was Jon's older brother, a fan of My Bloody Valentine, that encouraged him to take up music. Jon began playing guitar at the age of eleven, due to The Stone Roses, being taught by a mysterious music teacher known to the locals as Madigan.
Jon studied astronomy and mathematics at University College London, where he met Guy Berryman, William Champion, and Chris Martin, his future bandmates of Coldplay. Jon also worked as a school janitor.
Some of Jon's musical influences include acts such as Ride, George harrison, and Jimi Hendrix.
Apart from Coldplay, Jon has also guested on Ian McCulloch's solo album, and made a cameo appearance with Coldplay bandmate Chris Martin in the film Shaun of the Dead.
Jon and long-term girlfriend, jewellery maker Chloe Lee-Evans, have been living together for a while in London. Jon recently proposed.
Jon Buckland's band Coldplay has recieved numerous awards over the past decade, including a Grammy in 2004 of 'Record of the Year' for 'Clocks'. As of 2006, Coldplay has 15 released singles, 3 albums, and 1 live-album.
Currently, Jon Buckland and the rest of Coldplay are working on their fourth album.