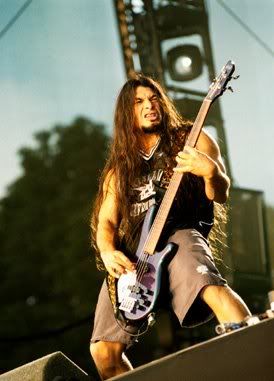 Robert Trujillo Profile :
Roberto Trujillo (IPA: [ro'βeɾto tɾu'hijo]) (born on October 23, 1964[1]) is a bassist who played with Suicidal Tendencies, Infectious Grooves, Black Label Society, Jerry Cantrell, and Ozzy Osbourne's band before joining Metallica in 2003
He played in a few local bands before joining Suicidal Tendencies (in 1989) and fellow Culver City native, Rocky George, the guitarist for the band at the time. Trujillo replaced the band's second bassist Bob Heathcote. He is responsible for adding in funk influences to the band seen prominently on albums Lights...Camera...Revolution! and especially on The Art of Rebellion. He eventually turned bandmate Mike Muir on to funk music, and the two formed Infectious Grooves to play more funk oriented music.
He was a member of Ozzy Osbourne's band for a number of years starting in the late 90s. Trujillo was the subject of controversy for re-recording Bob Daisley's bass tracks for reissued versions of Osbourne's albums Blizzard of Ozz and Diary of a Madman due to Daisley's claim of not receiving proper royalties. (Similarly, Osbourne's drummer Mike Bordin re-recorded drum parts originally done by Lee Kerslake, who was also involved in the royalty dispute.) This achieved additional notoriety for giving no notice to the buying public on the outside of the CD that they were not purchasing an original recording.
Robert Trujillo became Metallica's bassist on February 24, 2003 after auditioning for the band and fitting in with fellow band members James Hetfield, Lars Ulrich, and Kirk Hammett. Trujillo received one million dollars from the band as an advance on the percentage he would earn by being in Metallica. His audition and hiring appear in the documentary film Some Kind of Monster. His debut studio album with Metallica, Death Magnetic, was released on September 12, 2008.
Also in 2003, Trujillo was seen playing an upright bass in the Nickel Creek music video, Smoothie Song. However, he did not play bass for the band during the song's recording.
Read More in Wikipedia